Thank You Notes
Thank you notes are the icing on our cake! We receive a smattering of notes, photos, and emails from the kiddos who received our arts and craft activities, from their parents, and from hospital staff members. They always put smiles on our faces.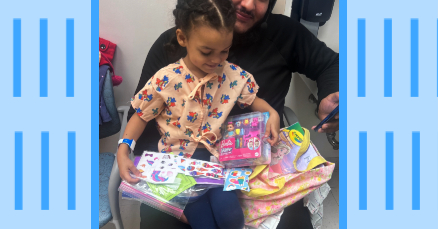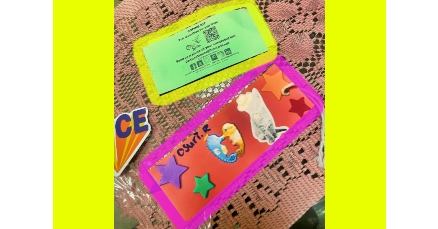 Thank you! This kept her and her siblings occupied.❣️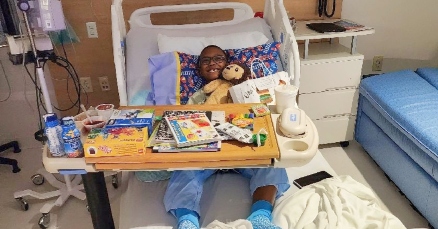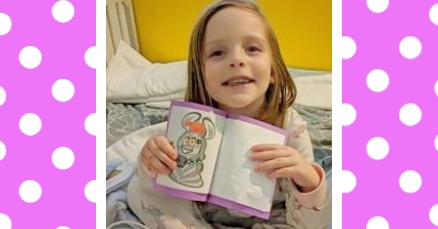 Thank you for the care package. ...your package just made her stay so much better! thank you!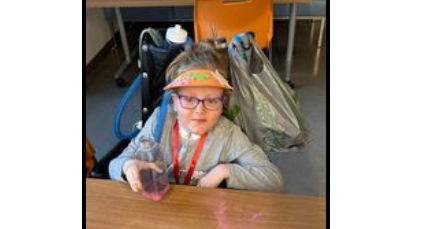 Willow enjoyed making her visor. Thank you!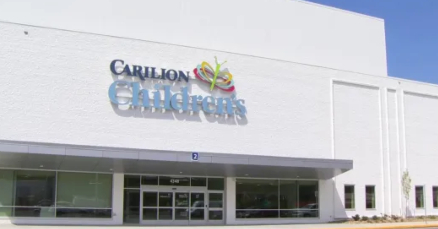 On behalf of the Children's Hospital, I would like to thank you all for your donation of craft kits and activity bags. The hospital can be a scary place, and donations that support the Child Life program at Carilion go a long way to showing patients and families that they not only have our support, but the support of the community during their recovery. We appreciate your kindness and generosity.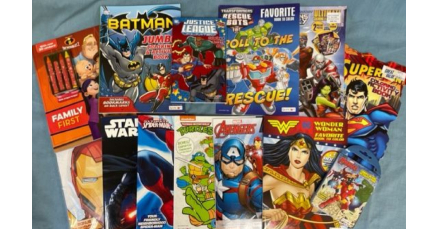 It made a world of difference to us, and he was so happy to have something to help him busy. THANK YOU! This note came along with a generous donation of coloring books from the family.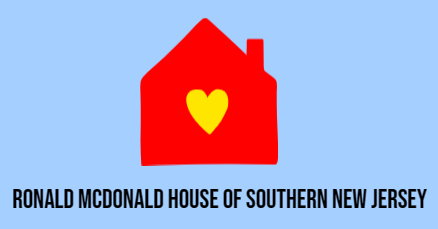 As we find ourselves looking forward to the chilly season and holidays ahead, we had to take a moment to send a "Thank You" to you! Your very generous donation of craft kits for the children to enjoy helps our staff as we provide meals, household staples, birthday parties, family movie nights, and so much more! It is all due to your thoughtfulness that our House can provide all the amenities of a home for our pediatric patients and their families.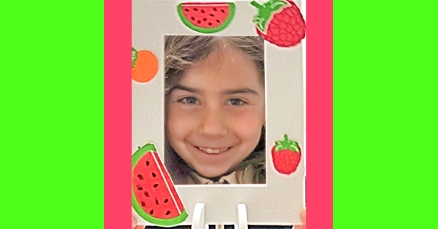 Bella was so happy to get your craft kit. Thank you for brightening our hospital stay in N.J.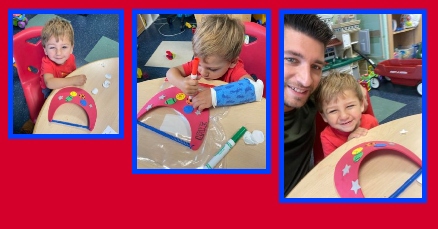 Thank you for the fun visor kit at Albany Med! Kane loved it!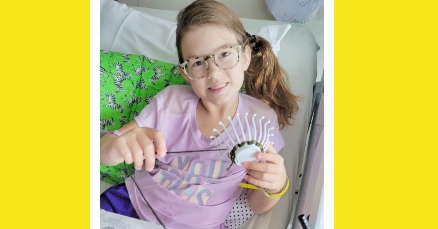 Thank you for your crafts we did in the hospital at Hillcrest Hospital. A tonsillectomy was routine, then 5 days later ... she had to go back to surgery and be readmitted. Your crafts made our stay a bit better. Thank you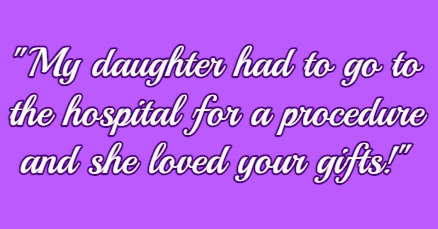 My daughter had to go to the hospital for a procedure and she loved your gifts! Thank you so much for taking the time to help others. It made her visit a lot more enjoyable!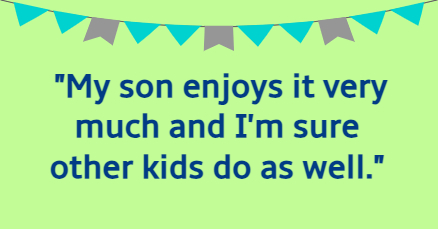 My son has health issues and we have spent a lot of time at Ruby (Memorial Hospital in West Virginia) and what u guys are doing with the crafts and bracelets and stuff are very much appreciated. My son enjoys it very much and I'm sure other kids do as well. Thank you for what u do. God bless u all!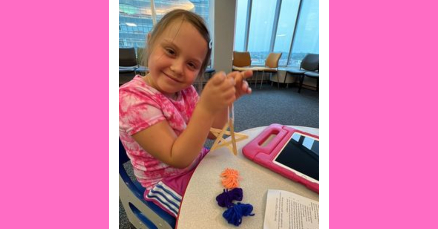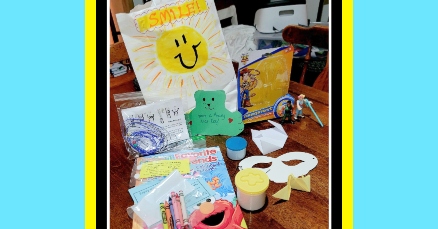 Hello, My son and I wanted to say a huge Thank You for the amazing items in the Bag of Smiles that he received on Saturday after we landed at the Albany Med Pediatric Emergency Room. Having these really helped calm him down while the doctors, nurses and techs worked with/on him though a 24 hour stay at the hospital. Again, thank you so much!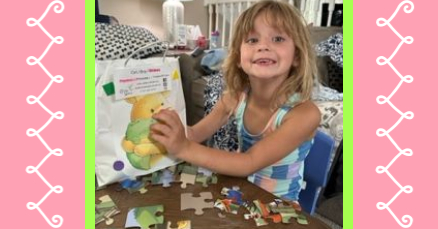 Thank you so much this put a smile on Emmaleigh's face when she was in the ICU here in Charleston, WV, and at home.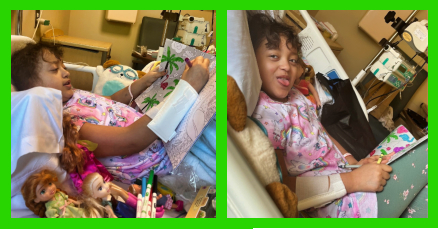 Thank you so much for your kind gift! Your thought cards! It made my daughter hospital stay just a little more easier.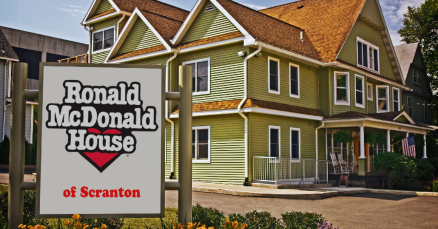 We at the Ronald McDonald House of Scranton sincerely appreciate your generous donation of the craft kits. Every donation as yours helps our house and the families who stay here in innumerable ways.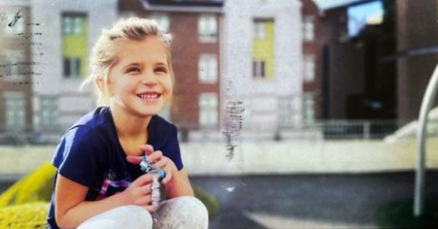 Thank you so much for the 50 Camp in a Bag craft kits. Our families love these! We appreciate you.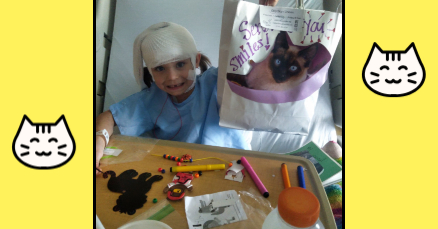 This is Jana, your bag brought a huge smile for her today! Thank you so much!!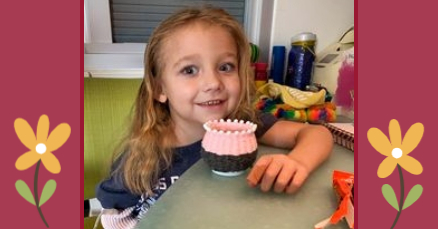 Thank you. We had fun making this craft today. We have been in Hershey Hospital for 10 days now and it was nice to do a craft with her.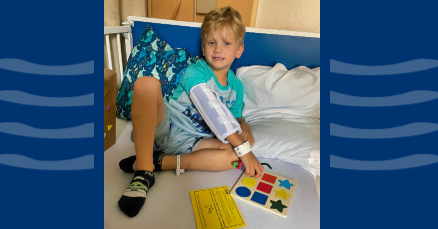 Just wanted to say thank you for the goody bag! We had a rough day yesterday and this is exactly what Connor needed! What a neat concept and the smiles it puts on kids' faces is priceless!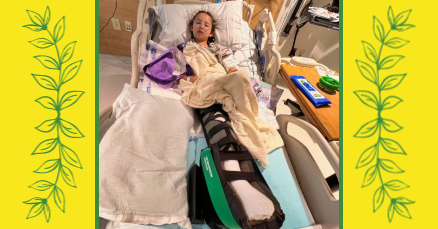 Thank you for the craft bags while my granddaughter was at LVHN (Lehigh Valley Health Network). She was in the hospital for a total of 23 days ... and she really enjoyed the crafts that were brought to her room.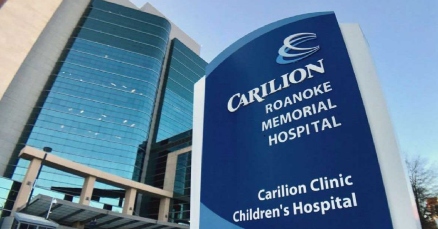 We just got our shipment from Caitlin's Smiles, and I am absolutely thrilled and beaming! These are amazing kits that I know you all have worked so hard to put together. I am so excited to develop this partnership with you and will be in touch about setting up a regular shipment after I see how quickly we go through the items. I truly appreciate your support!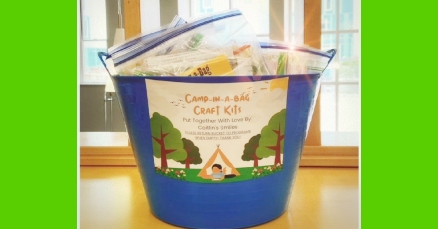 We have received a couple deliveries of craft kits from Caitlin's Smiles & I just wanted to say they are the cutest things ever! Our guest families sure do love them. Thank you for thinking of RMH Cincinnati & sending these all the way from PA. Your organization is so appreciated! Enjoy the day!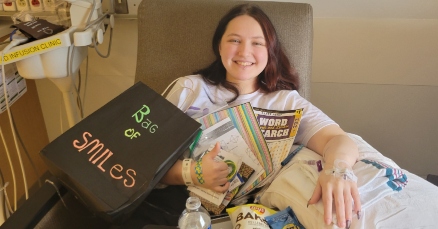 My daughter received a bag of goodies after a hard time getting her iv started for her infusion. Thank you for the much needed smile!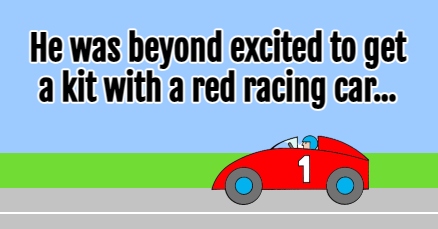 My 4 year old grandson was hospitalized in Monmouth Medical Center in Long Branch, NJ. He had 2 back-to-back surgeries. He was beyond excited to get a kit with a red racing car, donated by Caitlin's Smiles. I actually grew up in Harrisburg about 40 years ago, not far from 6th Street, and I was touched by the way your organization is reaching out to help put smiles on kids' faces. May Caitlin's memory stay alive as you continue with your wonderful work. Thank you!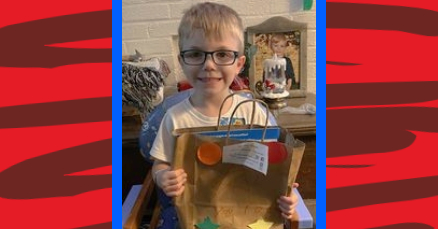 We just got back from Childrens Nationwide Hospital! We can't tell you how much you made Jaxon smile! God bless you!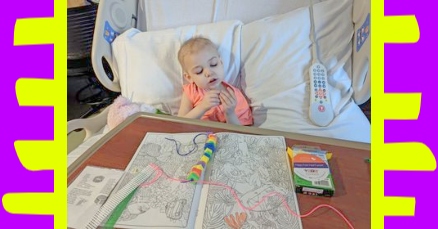 My daughter, Adalyn, wanted to say thank you for the crafts! She has absolutely been loving your crafts during her stay!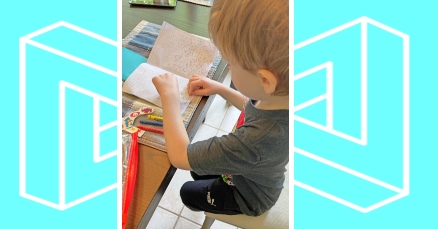 Thank you for the recovery kit that we were given after my son's surgery. He loved the activities, and it helped us through a difficult recovery day.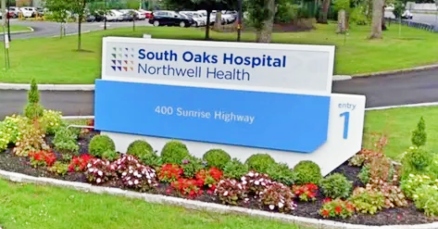 I wanted to reach out and thank you, and everyone from Caitlin Smiles, for my monthly donations. These items positively impacts my patients and staff members. Both groups faces' light up whenever we get a delivery. Thank you so much for the continued support!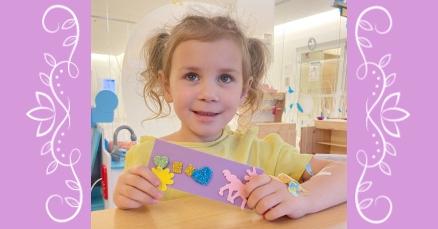 Hi my name is Zoee. I am 5 years old and I had fun making this craft, Thank you so much!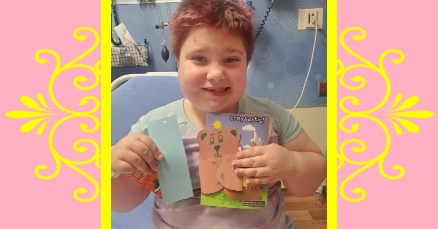 Grace is so grateful for your coping kit while we visited the ER (in Dayton, Ohio).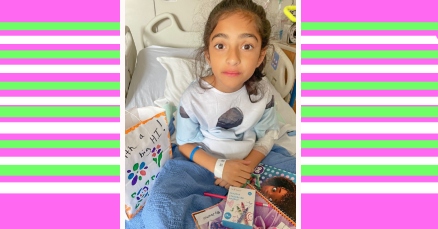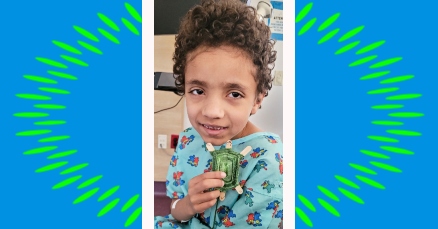 Damari just wanted to share his turtle with you. Thank you.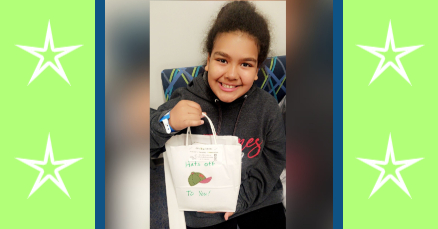 Brooklynne appreciated her bag she received this morning at WVU Children's!! It included a sketch book... Which happens to be one of her most favorite things!! Thank you so much for this gift! ❤️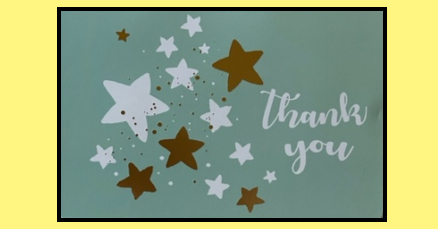 My daughter Luna and I would like to say thank you for the beautiful box of goodies that was sent to her here at Lucille Packard Children's Hospital in Stanford. We have been here for close to 2 months and it brought such a smile to Luna as she was opening it up! We appreciate your thoughtfulness and kindness. Thank you again,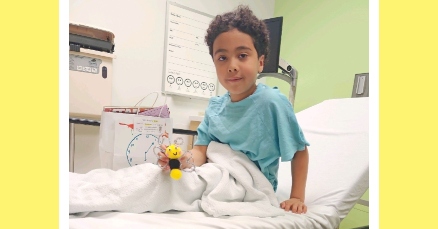 On behalf of our family, we want to thank you for the bag of smiles! This definitely kept Julius preoccupied while he waited for his surgery.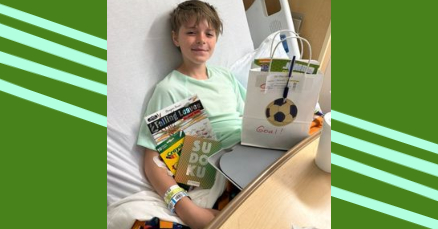 I just wanted to say thank you for making my son feel so loved after his emergency procedure!! It meant the world to him!! Keep up this amazing work because it truly makes a difference for EVERY SINGLE CHILD who receives a bag. 🥹💕🙏🏼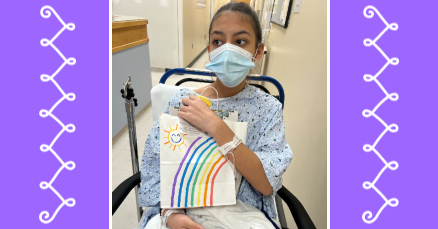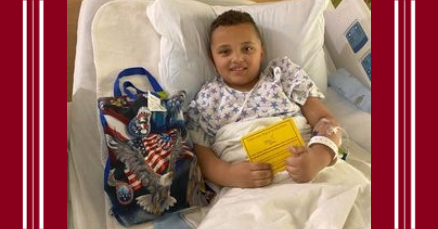 Thanks so much for the thoughtful gift!! It sure made his day!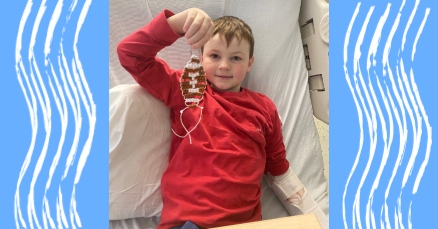 Thank you so very much for the keychain craft, and all of the wonderful goodies in the gift bag we got at the hospital (Monmouth Medical Center)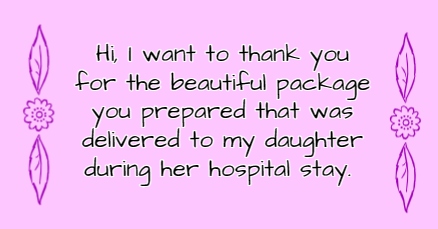 Hi, I want to thank you for the beautiful package you prepared that was delivered to my daughter during her hospital stay. You can see that a lot of thought goes into it and every detail is included. I can't believe the hand drawn flowers on the bag just to add some cheer! You make the world a better place. Thanks!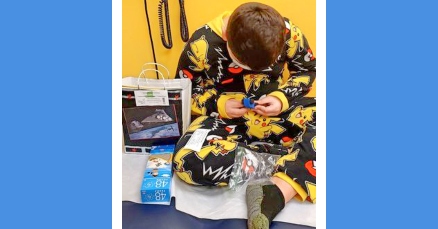 Obrigada! Meu filho amou. Muito obrigada pelo carinho. Translation: Thank you! My son loved it. Thank you very much for caring.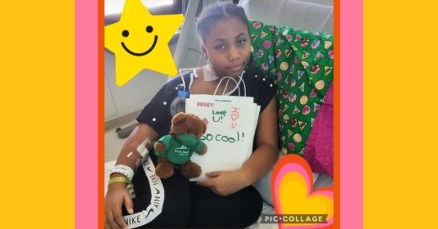 Thank you for putting a smile on my daughter's face.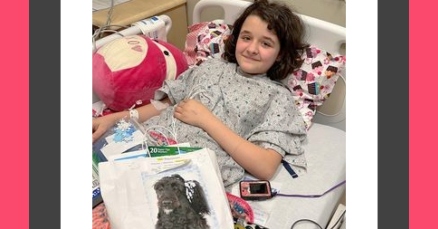 Thank you so much for the amazing care bag!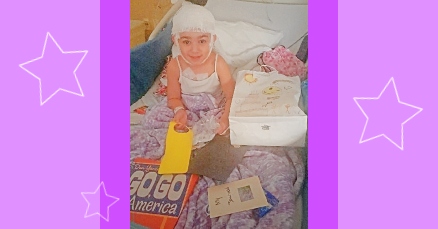 My daughter is in the hospital and received one of your bags. Thank you for bringing a smile to her face during this difficult time!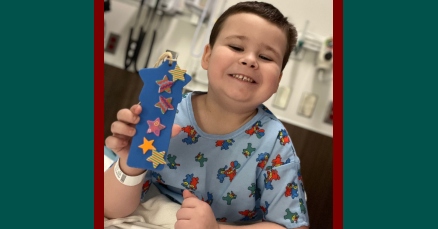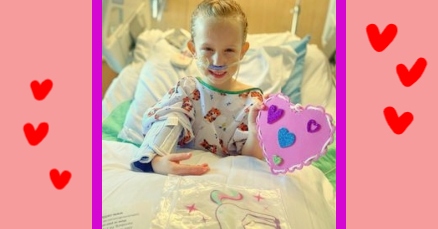 Chelsea is a 4-year-old at Harrisburg Pediatric unit and enjoying crafts from her Caitlin's Smiles bag! Thank you for bringing her joy in a time of discomfort.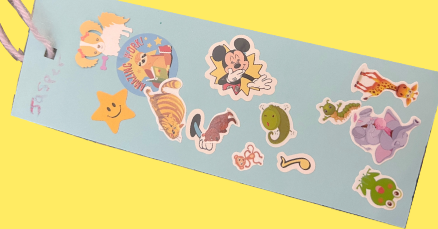 Jasper's craft. Thank you.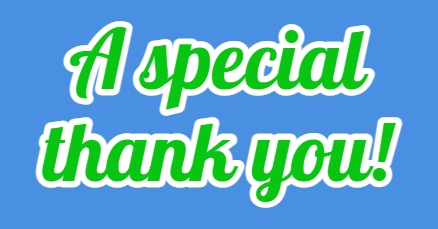 Just wanted to send a special thank you for the bag of goodies. When my son received the bag, it truly put a smile on his face. We are so grateful for your kind donation.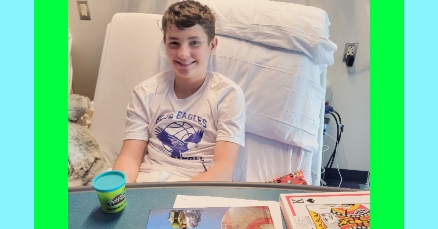 My 11 year old son is having an unexpected hospital stay. Needless to say, he was very scared and this bag of goodies was unexpected and made his day. It put a huge smile on his face. I'm so grateful for the work you do to make this experience for kids less stressful. Please let me know how I can support your organization. This kind gesture made an impact in our family and I'd love to support however I can.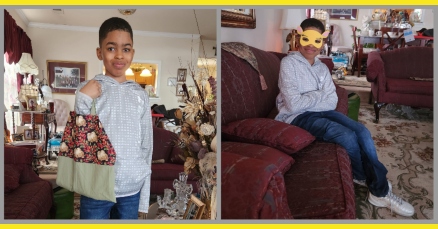 Hello and Thank you for the gift. He has been enjoying it since he got home. Thanks for making him smile.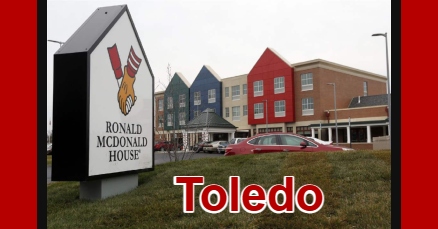 On behalf of the Ronald McDonald House here in Toledo Ohio, I would like thank you for your generous donation of craft/activity kits! Our families love being able to take these materials to their children in the hospital. It is a great bonding and stress relieving activity for them to do as a family. I loved reading more about your organization and the great work you all do. We appreciate your kindness and look forward to seeing the creativity of our families grow with your help.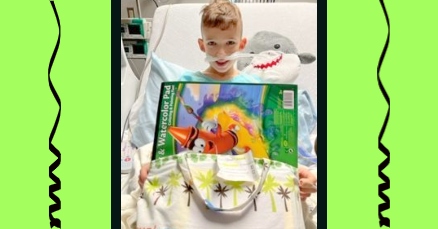 I wanted to write and thank you for the awesome bag that your agency provided to my son during his recent hospital stay. This brightened both of our days and made our hospital experience so so much better. We can't thank you enough. My son was drawing, made awesome crafts, and was able to take his mind off of feeling awful. Your agency is doing amazing work. Thank you so very much.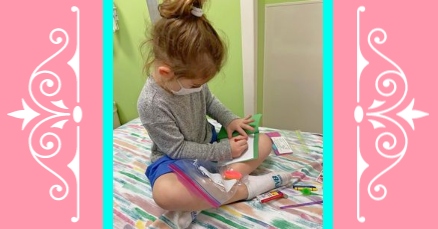 Thank you for the little kit!! My daughter Georgia was so nervous but was very happy after getting this ❤️❤️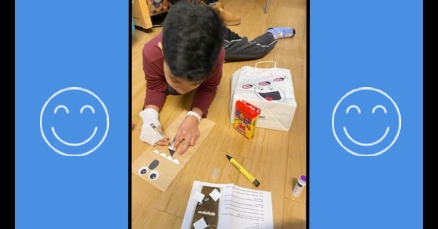 "Thank You For Helping Them."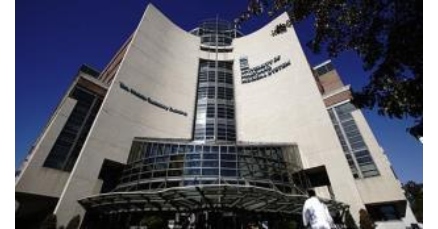 Thank you so much for your coping kits and the sweet card from Bonnie H. My 5-year-old was admitted to the University of Maryland Medical Center on Sunday. Your kit has brought a smile to my son's face and gave us things to build, color, and play with in between the poking and prodding of doctors. Thank you so much for all you do for our kids.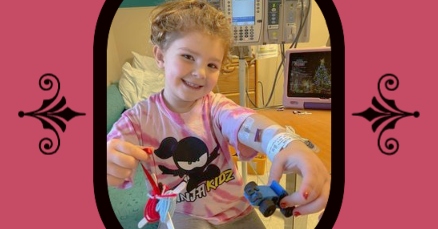 "Wanted to send you pics of my daughter enjoying your crafts today. She is recovering well. Thank you for brightening her day!"
"You really brightened my son's day. I can't thank you enough!"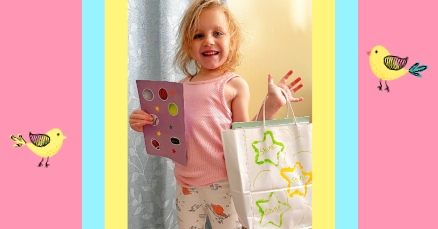 This is my Daughter Ellie, (age 5), ... at York hospital. Thank you for the kind gift. Please thank (volunteer) Andrew for the sweet card. He asked about sports she said she would be his cheerleader! I love your cause keep up the great work! Thank you!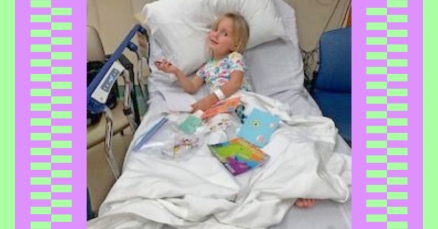 Had to take my 3 yr old to the hospital for some stitches in her knee after a fall and was greeted with a Coping Kit from Caitlin's Smiles. She loved having a distraction while we waited. Thank you so much.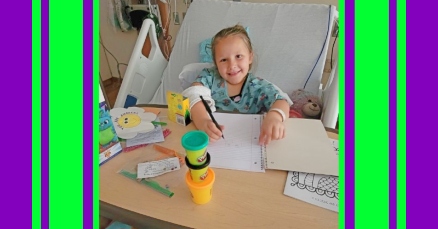 Hello, I wanted to send these photos of my daughter, Riot, enjoying the activities you helped provide. She was so excited to have something to do while we waited for answers. It's an absolutely lovely idea and helped ease her mind and boredom. Thank you so much! Jenna & Riot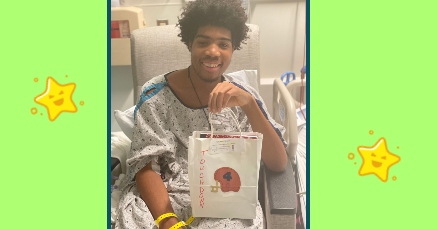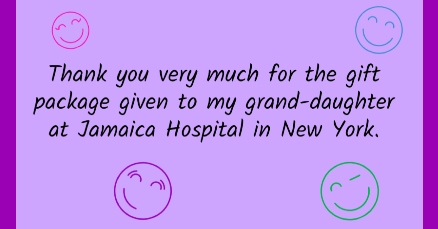 To All Volunteers Thank you very much for the gift package given to my granddaughterat Jamaica Hospital in New York. It made her smile and she loves drawing so all the gifts were very thoughtful and kind. Thank you very much. Have a wonderful day.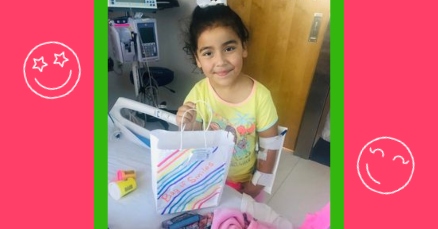 Thank you so much for everything, she loved it! She received her bag at Lehigh Valley Hospital.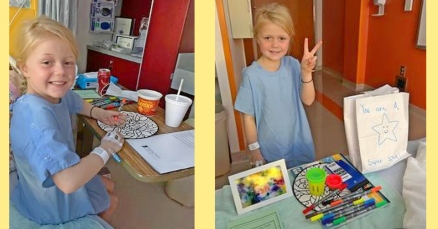 "Thank you very much! We love this idea for kids in the hospital." #SendingSmiles to Charley and all the kids at Reading (PA) Hospital #WithYourHelp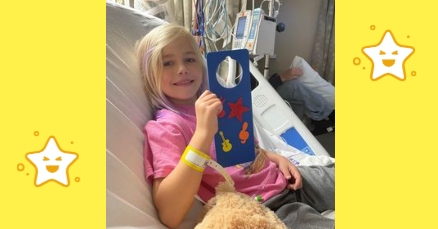 Thank you for the wonderful crafts! They have made Ellie's stay at the hospital so much better😊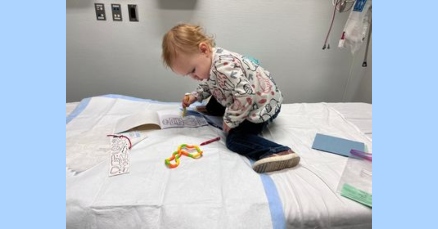 We are in the UPMC hospital of Altoona with my daughter after she got hurt and she absolutely loves the kit you have provided and she is feeling great.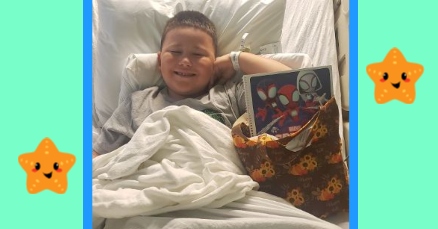 Chasen wanted to thank you so much for the bag!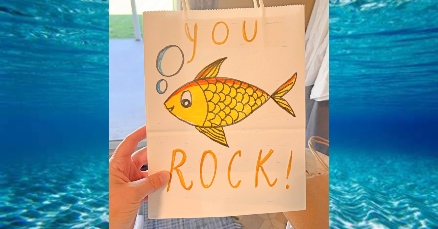 "This was a day brightener for my daughter Taylor when she was in the hospital- God bless your efforts!"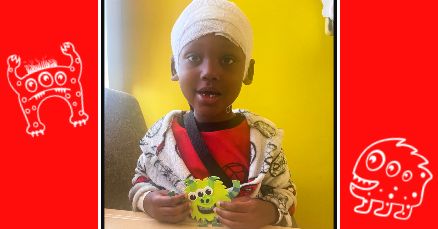 Langdon sends his thank you to everyone who helps to send smiles to kids like him!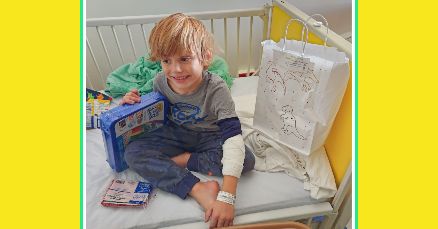 My son loves this special gift.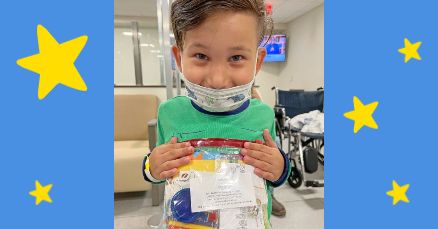 Thank you, my little boy loves it!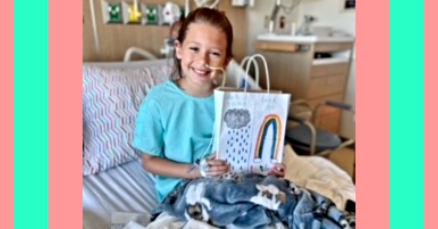 Thank you so much for the bag of smiles! My daughter was so excited to receive this with much of her favorite things inside!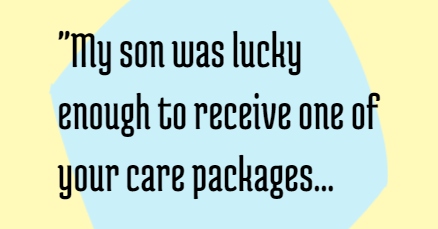 My son was lucky enough to receive one of your care packages from St. Lukes Bethlehem today. We want to pay it forward so other kids get this same positive blessing! Thank you.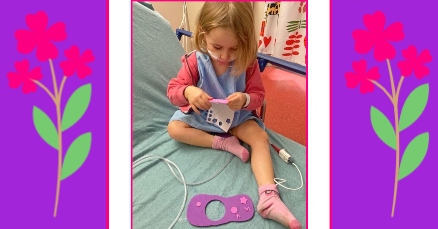 The foam stickers are a hit!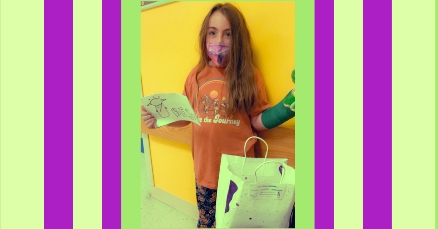 Thank you for the bag. It really made her day!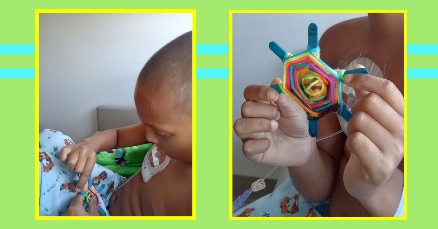 Thank you for the crafts. We received them from Ronald McDonald House of Central Ohio while here for treatment in Columbus, Ohio. The turtle was my son's favorite. Nice distraction while in the hospital.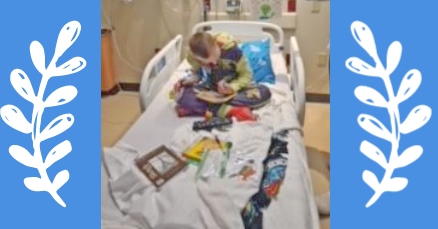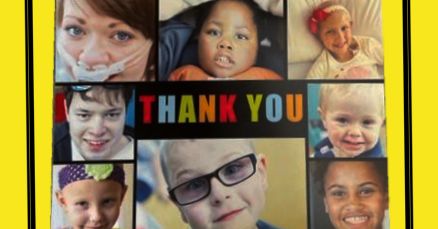 On behalf of our hospitalized children and their families, thank you so much for your thoughtful contribution which provides medicine for their spirit. Child Life interventions facilitate coping and adjustment, reduce fear and anxiety, teach coping skils through developmental education, diversion, surgical support, medical tests and procedures with medical play and pediatric vocatulary. Thank you so much for the activity bags. Our toddlers loved them so much and we enjoyed doing them with them! We are so appreciated of the goodies!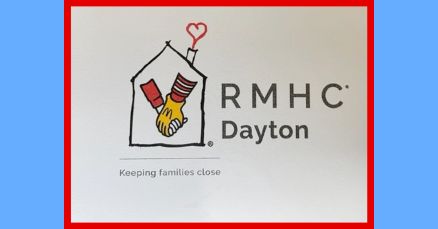 Thank you for your donation of craft kits to Ronald McDonald House Charities Dayton. We appreciate your thoughtfulness and your support of our mission to provide community, comfort, and hope to families with seriously ill children. Wishlist donations enable RMHC Dayton to make a difference in the lives of thoursands of families each year and the demand for our services continues to grow. When they need it the most, families have a home-away-from-home when they are faced with critically ill, hospitalized babies and children. We know you have many options for your philandthropic giving. Thank you again for choosing to suppor the families served by RMHC Dayton.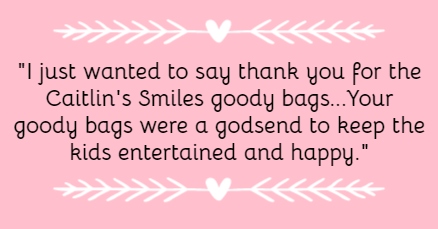 I just wanted to say thank you for the Caitlin's Smiles goody bags. I was in the ER yesterday with my 4 yo son, and my daughters (age 7 and 3) had to come along too. everything ended up fine, but we chose a very busy time to go to the ER< waiting hours. Your goody bags were a godsend to keep the kids entertained and happy. I looked up the story and was so touched. I'm sorry it ended the way it did for Caitlin but I love the story that was created from your experience, and seeing my 3 kids' smiles from the play dough and stickers and "my journal" made me imagine the hundreds and thousands of other smiles that came from this. thank you for sharing.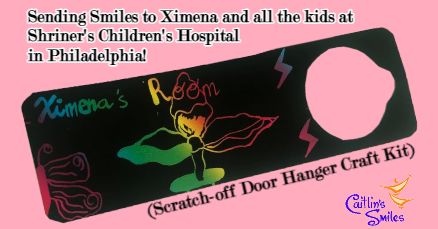 Many thanks for the kit my daughter Ximena got at Shriners Hospital in Philadelphia.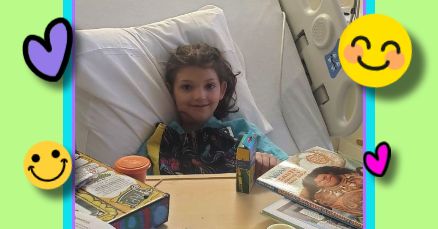 Thank you SO much from Malka! (She received a Bag of Smiles while staying at Monmouth Medical Center Long Branch NJ)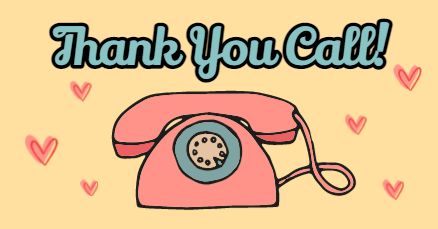 A polite young lady called our office today about her recent experience in the hospital. She explained that she received a Bag of Smiles after her surgery while at Harlem Hospital in New York City. She said it meant a lot to her and that her favorite items were the art kits and the book.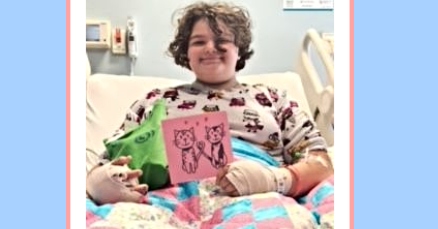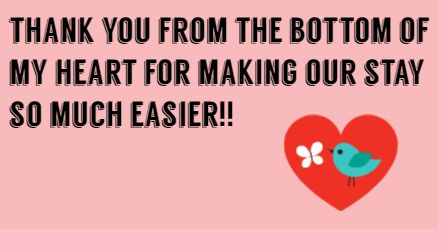 I would like to THANK YOU from the bottom of my heart. I had to pick up my 2 yr old Grandson from the babysitters due to running a high fever and take him to Urgent Care. They ran test on him and immediately told us ... that I needed to take him to the ER IMMEDIATELY. I left from there and took him to the ER with just he and I. I had absolutely nothing else I needed. They admitted him ... they had to start an IV to administer antibiotics. With this being said, this very hyperactive Autistic 2yr has to remain in his bed due to having an IV on a pump!! After the 1st night the nurse brought him in a little care package and he had a blast with all of the activities that were in there. The play dough was a Huge Hit. We made French fries and ate them, made flowers and picked them and all kinds of things for about 3 hours!! So thank you from the bottom of my heart for making our stay so much easier!! I am planning on taking this to our church ladies group and spread the word and maybe we can do things like this to make someone's day. May God add his blessings on you, and I will never forget what you have done for my sweet boy!! Thanks Again and God Bless!!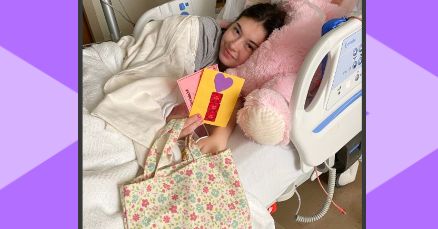 Thank you so much for the bag is smiles!! Your thoughtful act of kindness really did put a smile on my daughter's face. May God bless you tenfold!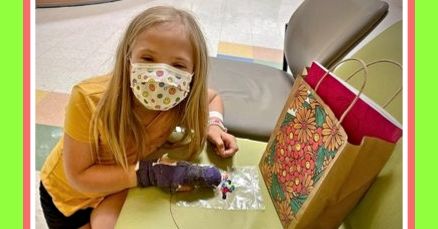 Thanks so much!! (At Shriners Hospital in Philadelphia)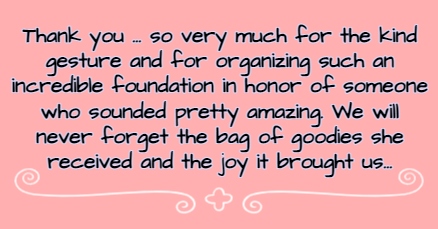 My daughter, Mila, was hospitalized this past week. I wanted to take a moment to thank you so much for the bag of arts and crafts supplies that was given to us during her stay. My daughter's spirits were quite down and she desperately wanted to go home. We were feeling trapped inside the hospital room and the only thing I had to occupy her was an iPad, which she quickly lost interest in. When a woman came in and asked me what my daughter's interests were, I was thrilled when she told me she had some coloring materials for her. When I thought she was coming back with a coloring page and crayons, she gave us the most amazing bag filled with so many different arts and crafts. It was the highlight of my daughter's time at the hospital and brought the biggest smile to both of our faces. I felt such a sense of relief knowing she had an activity that she loved to do, just like Caitlin did, to keep her busy and bring her joy. Thank you ... so very much for the kind gesture and for organizing such an incredible foundation in honor of someone who sounded pretty amazing. We will never forget the bag of goodies she received and the joy it brought us.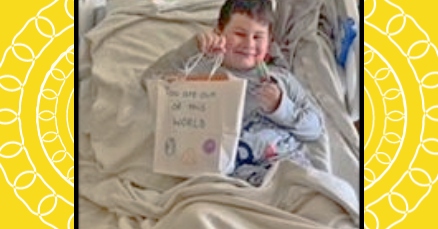 My son was so happy to have gotten this bag. My son's name is Jake and he is 7 years old. He wants to send a big THANK YOU! It made his day . Once again thank you for the Bag of Smiles.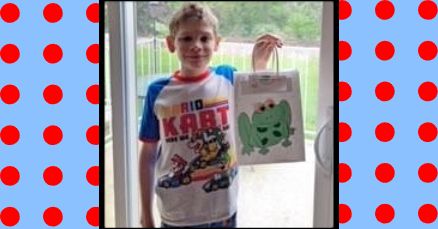 We just wanted to say thank you so much for your thoughtfulness. My son was very anxious about his sedated test and this helped calm him down.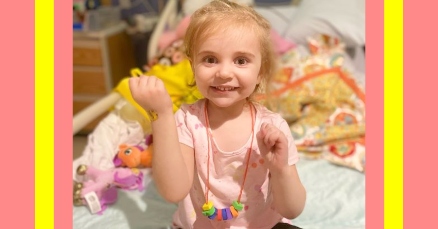 Here's my Caitlin's smiles while having fun with your Caitlin's Smiles kit!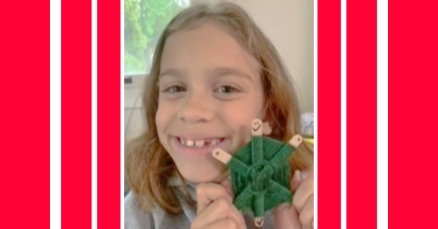 We used your turtle weaving kit from Shriners Hospital in Philadelphia today. Came out pretty nice! Thank you kindly!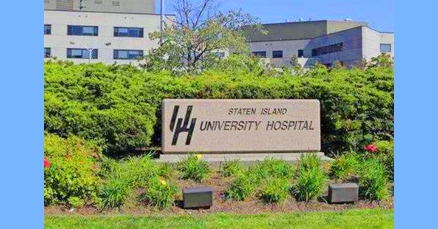 We have just received your coping kits and are completely in love! We are so excited to use these for our patients to provide support, coping, and being able to easily establish rapport. Thank you for all you do!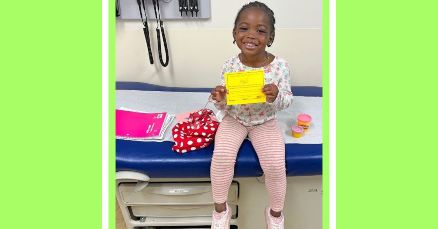 She says, "Thank you for the gifts!"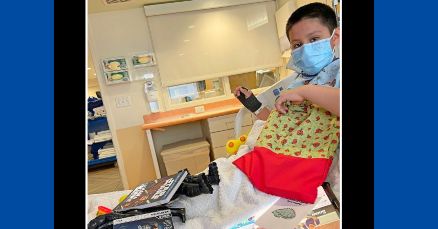 It was the first time being admitted to the hospital for this young fellow. He says, "Thank you!" Caitlin's Smiles provides activities to help kids cope and have a little bit of normalcy while dealing with stressful medical situations.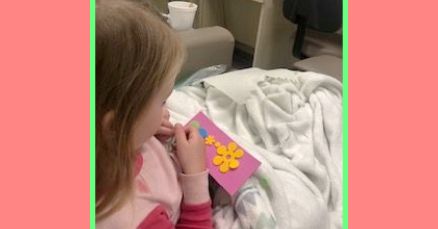 My young child is in the ER right now and received one of your bags. Thank you so much, they are so sweet and thoughtful. They helped her take her medicine and stay calm and happy. She squeezed the playdoh when she was getting medicine, watched me color as we waited, and is playing with the stickers and bookmark now. Thank you so much,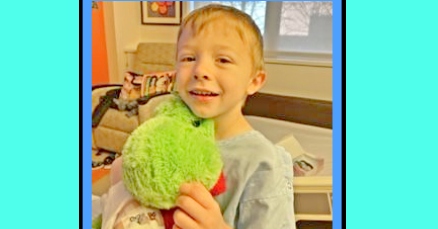 Thank you so much for your work. My son immediately coloured in his book and the dinosaur hasn't left his side. We came in after fighting a stomach virus for 4 days and not being able to stay hydrated. He was very sad and wouldn't smile. When our nurse came in with the bag of toys and stickers, he immediately lit up. Thank you so much!