A VERY SPECIAL DELIVERY From FedEx Ground
It's a load of smiles and generosity worthy of Santa himself.
We offer our deep gratitude to the employees of FedEx Ground for remembering our kids in their annual holiday gift drive.
Peggy Small and Phyllis Daniels brought boxes upon boxes to Smiles Central that included crayons, colored markers, coloring books, notebooks, sketch pads, Play-Doh, puzzles, recloseable bags and an LED tracing tablet.
Thank you, FedEx Ground! You have made the holidays a lot brighter for a lot of children.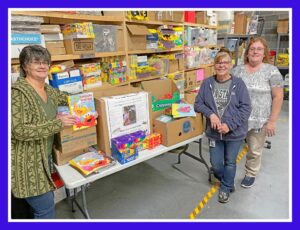 IN THE PHOTO: Cheryl receives FedEx Ground's generous donation from Phyllis Daniels, left, and Peggy Small.