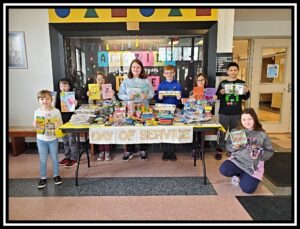 Thanks go out to everyone at Brecknock Elementary School in Denver, PA, for including Caitlin's Smiles in their Day of Service. We're honored to have been a part of the day that remembered their teacher, Mrs. Horning. Here's the article from their newsletter about the Day of Service.
𝐁𝐫𝐞𝐜𝐤𝐧𝐨𝐜𝐤 𝐃𝐚𝐲 𝐨𝐟 𝐒𝐞𝐫𝐯𝐢𝐜𝐞 𝟐𝟎𝟐𝟐
On February 25, 2022, Brecknock Elementary School held its 13th annual Day of Service.
Each year this day is planned to remember former Brecknock teacher Mrs. Lisa Horning who encouraged her students to show compassion for others by supporting organizations who helped people in need.
This year the students and staff at Brecknock supported Caitlin's Smiles. This local organization spreads smiles and fun to thousands of children in the hospital. They deliver Bags of Smiles and craft kits to children to make their hospital stays and treatments less stressful by providing them with engaging arts and crafts activities. A donation was held to collect items for them to include in their Bags of Smiles. Each Brecknock student assembled a craft kit to include and made a handmade card.
We are so proud to continue Mrs. Horning's legacy and bring meaning to the motto she created… "Because Brecknock Cares."