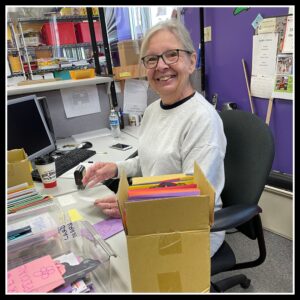 For Becky Rusbatch, it's a joy "just being a small cog in this really big wheel."
Fact is, she has become a big part of this wheel.
Becky came to Caitlin's Smiles in September 2019 after answering a Volunteer Application on our website. Since then, including through the pandemic, she has donated more than 300 hours to helping our kids.
"Making kids smile warms my heart," she says. "And I believe in sharing my talents with others."
We're fortunate that she does.
On two mornings a week, Becky is our receptionist. But she doesn't limit herself to those duties. At the same time, she assembles and quality-checks craft kits, helps record volunteers' hours and handles clerical tasks.
Then she goes home and often keeps working. For instance, from February through mid-April this year, she spent more than 40 hours working on projects at home — cutting yarn, counting beads and assembling a variety of craft kits that will be included in Bags of Smiles and Coping Kits.
Recently, Becky accepted a couple other assignments: She helps lead one of our evening community Craft Nights every month and helps lead iin-house sessions with volunteers during the day.
Besides the kids, it's that kind of atmosphere that keeps Becky's heart in this mission.
"It's the welcome here," she says. "It's being part of a group of people."
She points to her recent Craft Night as an example.
"The other night, we had two high school athletes here," Becky says. "They were kids who didn't really need to be here. They could have been out doing just about anything else, but they were here, stuffing beads into little bags.
"It's nice to see the variety of people and the enthusiasm they bring."