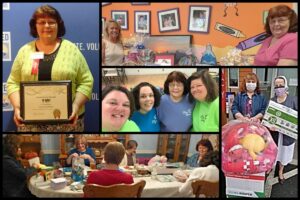 Carol Koppenhaver's interest grew as she typed up paperwork at the law firm of McNees, Wallace & Nurick.
She was working on Caitlin's Smiles' application for charitable status. Her boss then was Harrisburg attorney Tim Finnerty, who now volunteers on our Board of Directors.
"As I was typing it up, the more I read about it, the more it sounded interesting to me," Carol says. "My mother and I had always done crafts, and she had since passed, and I just needed something to try to help me out, too. So I volunteered at a couple of the Craft Nights while I was still working, and then, in 2009, I retired and I started coming in even more full-time than I am now."
Carol has filled many roles in the years since then. "I packed Bags (of Smiles), made craft kits, made deliveries, did all the silent auctions for many years," she says.
Today, she is our statistician. She not only fills Bags of Smiles and packs them for shipping, she keeps count of every bag, Coping Kit, craft kit, and toy that we send out and notes the medical facilities that receive them.
When she's not doing that, she is working on craft kits or assembling journals at home. "I put in more hours at home than I do in the office now," she says.
That includes holding craft sessions at home for five former co-workers.
"We meet once a month on a Friday night," Carol says. "I feed them dinner, and then I make them put craft kits together for a couple hours."
To Carol, it's all for a great cause.
"It's a great place to volunteer," she says. "It helps the kids. I can see from their thank-you notes, (the pictures with) the smiles on their faces with the Bags of Smiles. … It's just a good feeling when you get a box of stuff done and bring it back in here. It's as much for my well-being as for the kids' well-being."