Sending many thanks to AAA Central Penn, along with their employees and members for sending smiles to kids in Hospital Emergency Departments and Clinics.
Central Penn AAA has been a great supporter of Caitlin's Smiles. Most recently, in January & February, the organization purchased supplies to assemble Coping Kits. Then they invited their employees & members to their branch locations to assemble the kits. In all, over 5,000 Coping Kits were filled with a craft kit, journal, stickers, coloring activity with crayons, and a Play-Doh. This fun variety of activities helps pediatric patients cope while dealing with medical treatments.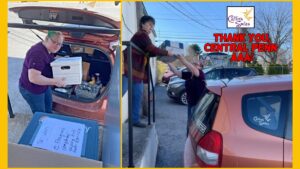 Pictured is longtime volunteer & AAA Central Penn employee, Jen, delivering the Coping Kits to Director Cheryl at Smiles Central.