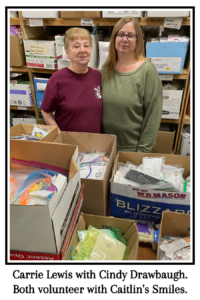 Cindy Drawbaugh remembers the days when Caitlin's Smiles' headquarters was a couple of rooms at Zion Lutheran Church in nearby Dauphin. She has been with us almost from our beginning.
Nearly 18 years ago, she was assigned to us through her work for a United Day of Caring. Fortunately for our kids, she's still here.
In addition to becoming a craft session leader, she has made valuable contributions to our fundraisers, by traveling the Harrisburg area to pick up donations, and by assembling and quality-checking craft kits and so much more.
Even if, as Cindy recalls, it meant her assembling kits on the front steps at the church because there was no more room inside.
"I never left because what Cheryl has built is the most amazing thing ever," Cindy says. "Knowing that we are putting smiles on children's faces is the most heartwarming experience.
"When Caitlin Smiles was first established, we were able to go into the facilities and see how much this meant to the children while they were there."
Carrie has become our quality-control expert supreme. In between those times, she helps Cindy solicit and gather donations as well as lead our Saturday afternoon community craft sessions, where strangers have come together and bonded in this mission.
Read more about Carrie, in her own feature, here.
"All of the volunteers are amazing and great to work with," Cindy says. "It is nice to see the community come in and volunteer their time as well."