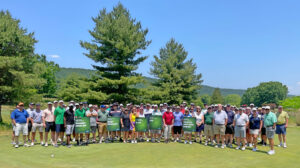 104 participants took part in this year's A Round of Smiles golf tournament at Sportsman's Golf Course on June 2nd. As temperatures reached beyond 90, they played on through the heat in support of the hospitalized kids served by Caitlin's Smiles.
During registration, the golfers enjoyed 25 pizzas donated by Papa John's Pizza (Linglestown Road, Harrisburg). With the weather being so hot, keeping supplied with drinks was more important than ever. Vickie Geesaman of Edward Jones sponsored the cart beverages to help keep everyone hydrated. Snack sponsor Karns Foods provided a nice variety of snacks, water & other beverages for the golfers to enjoy before, during, and after the tournament. Golfers brought their own clubs but were supplied with everything else – Golf Balls were sponsored by Willowbranch Financial Group, and Poker Chips were sponsored by M&T Bank. The Platinum Event Sponsor for the tournament was Hornung's Industrial Supply.

After a scorching day on the course, golfers were welcomed to the pavilion with a delicious steak dinner. The day closed out with the announcement of the tournament winners. The Karns Food team took first place. The second place team was earned by the Zarcone & Friends team and Third place was won by Pavone. Thanks to everyone who played, volunteered, sponsored, and donated to the event. A special thanks to Heather and the Sportsman's Golf Course crew for all their hard work and great service! 
Keeping golf in mind, Probitas Technologies will be hosting a golf tournament on August 25, 2023, at Eagles Crossing Golf Club (Carlisle) to benefit Caitlin's Smiles. Click here for details. 
Mark the calendar for next year's A Round of Smiles Tournament on May 31, 2024, at Sportsman's Golf Course.