Danica's heart was with Caitlin's Smiles 250 miles away. She wasn't about to let disappointment change that on our Have A Heart Day (February 5, 2022).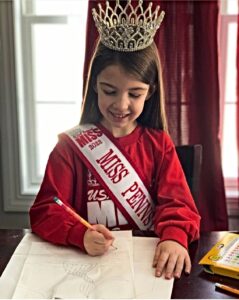 Danica lives in rural Transfer in northwestern PA, on the Ohio border. Our kids had already been recipients of her recent kind donations as part of her community service for pageant competition.
     Danica, the reigning Miss PA Junior Princess, was excited about making the trip to Harrisburg for Have A Heart on   February 5. It was to be her chance to meet up with her friend Sydnee and be part of our Caitlin's Smiles experience in person. Sydnee, who is Miss PA Junior Teen at age 14, has been a faithful local volunteer for us for several years.
     Danica and her mother, Michelle, tried. And tried. But Mother Nature had the last word.
     Earlier in the week, Transfer was hit by lake-effect snowstorm after snowstorm. "We have more than 2 feet of snow at our house," Michelle told us that day.
     It was snowing when Danica and her mom set out on the four-hour drive early Saturday morning. They turned back. The disappointment fueled their decision to try to wait it out awhile and hope for conditions to improve. They set out again. They wisely turned back once more.
     Upset? Yes. Deterred? No. This time, Danica went to work. This picture shows her at home, decorating Bags of Smiles for our kids, right along with the nearly 80 volunteers who were doing the same thing at the same time in Harrisburg.
     Thank you so much, Danica and Michelle, for your amazing dedication to our kids. Thank you for being a big part of Have A Heart Day. When the weather warms, we hope you'll try the trip again.