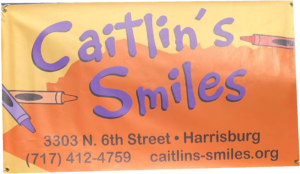 The Walk for A Healthy Community is this Saturday, May 20th.
Place:
HACC – Harrisburg Campus
Bring any cash & check donations along with you so we can process them for the walk. Wear comfortable walking shoes and clothing. Check the weather and dress appropriately. Wear something fun like a crazy hat or a tutu or bright shoes if you want. As of this moment, the forecast is calling for it to be overcast, with a slight chance of rain. Temps 60-70 degrees. Organizations will be set up with tables and canopies nearby the parking area.
Look for the Caitlin's Smiles banner to find us (pictured above).
Sorry, I don't know our exact location in the setup this year.
7:45 am Registration begins – check in at the CS table/canopy.
-All CS walkers will receive a CS tote bag (donated by 4Imprint).
-CS Walkers who raised $100 or more will receive a new CS t-shirt.
-For every $50 raised you will get an entry in Highmark raffles and Caitlin's Smiles raffles. The Highmark raffles are automatic entry. For the CS raffles, you'll get tickets to write your name and phone number on that you'll put into bags corresponding to prizes.
-Walkers who raised $30 or more can pick up their Walk for a Healthy Community t-shirt from the designated area.
-Refreshments will be available-coffee, bananas, granola bars, and water. These are provided by Highmark.
-Well-behaved dogs are allowed to attend as long as they are on a leash.
Owners are responsible for their dogs & cleaning up after the dog.
-If you need to contact us on the day of the walk, text/call Karen at 717-503-7295
8:30: Opening Ceremonies and Announcements
9:00 am Walk begins (5K or 1-mile course) HAVE FUN!
Walk the course of your choice. Walkers may leave when they finish.
CONGRATULATIONS!
CAITLIN'S SMILES
WALKERS HAVE RAISED
$14,248
FOR THIS YEAR'S WALK (as of 5/18)!
THANK YOU!
A Special THANK YOU to those of you walking off-site on your own,
or with Coco's Dream Team in Ohio!
Please, send photos of your walk to office.caitlinssmiles@comcast.net
**FYI, online donations can be accepted for your walk efforts through June 30th. Any cash & check donations accepted after the walk date will need to be turned into the Caitlin's Smiles office by Monday, June 26th. Keep sharing your online fundraising webpage in your emails and on social media pages.
**Keep in mind that if you have made a donation to your own walk fund, check to see if your employer will match your donation. Many companies match donations made by their employees.
Thanks for all you do! If you have any questions, please contact Karen at office.caitlinssmiles@comcast.net