April is National Volunteer Month and Caitlin's Smiles is shining a light on our volunteers. Below are several volunteer interviews written by Caitlin's Smiles volunteer & former volunteer manager, Skip Wachter. Volunteers were interviewed at 'Have A Heart Volunteer Day' at New Hope Church on February 2, 2023.
---
A GIVING FAMILY  
Vanathi Durairaj and her family worked at two tables assembling craft kits for Buddy Band bracelets and enjoying their task on this Have A Heart Day. 
"We were looking for a volunteer opportunity and ended up with the one we liked the most," she said.  
Meanwhile, Sudarson Raghunathan summoned Sahana, 13, and Saindhavi, 8, to his table. "We want to do something for the community," he said. "This is a good way for the kids to give back."  
Saindhavi was quick to support that. "It's fun and we're having fun," she said.  
They were there to support Sahana's day of volunteering. At 13, she's a student at Mountain View Middle School in Mechanicsburg and is wise beyond her years.  
"It feels good," she said. "It's helping your cause, and we're giving back. This is a wonderful idea. The execution is wonderful. You're incorporating the community. It's a wonderful mission, and everyone here is so great."
---
---
A TEAM OF FRIENDS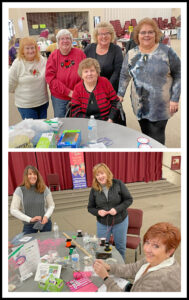 Sandy Cole has been a volunteer for Caitlin's Smiles for three years. She has become a virtual regular at our Saturday craft day every month.  
And on this Have A Heart Day, it was clear that her enthusiasm was contagious. She brought her sister and a few friends.  
"It's the spirit of being together, of working together," Sandy said. "I feel appreciated. And it's all for the kids."  
Her sister, Karen Secoges, was experiencing Caitlin's Smiles for the first time. "This is wonderful," she said. "What a great organization."  
Karen brought along Dawn Resanovich.  
"It's a wonderful program," Dawn said. "I can understand why Sandy has been doing this."  
Sandy also brought Karen Shultz, who has been volunteering with us for a year, also joining the Saturday team.   
"At first, I didn't know what Caitlin's Smiles was," Karen said. "I think it's amazing. I never knew that programs like this existed to help kids in hospitals. I always thought it was done within the hospitals. Now I come to Caitlin's Smiles every month."  
Ruth Ruggles, also a one-year volunteer, was happy to add her thoughts. "I love it," she said. "I love doing this. It's a wonderful group. It's very valuable. Very helpful."  
At the next table were more of Sandy's friends, who were not only excited about helping our kids but, at the moment, about winning prizes in our raffles. And they were winning a lot of prizes.  
"It's wonderful," Kristi Houtz said of Caitlin's Smiles as she and two friends assembled Neon Buddy Band bracelet kits. "Giving back – that's what it's all about."  
"This is great," said first-timer Marie Brandt. "I love it. I'll be back."  
It was also the first time for Lisa Wagner. "It's a nice experience. A wonderful project, helping kids in hospitals feel better."
---
---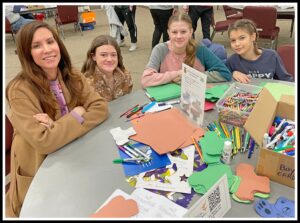 A TEAM OF KINDNESS  
It was the fifth Have A Heart Day for Renee Campbell of Harrisburg, and she and three young volunteers were hard at work designing cards of encouragement in the shape of teddy bears.  
Renee said she's always eager for "anything to do with helping kids."  
"Who doesn't want to put smiles on kids' faces," she said, "especially those who really need them."  
Emerson Campbell, 12, echoed her mom. "I love doing projects for kids, helping others."  
Emily Brisius, 14, was giving back because her sister once received a gift from Caitlin's Smiles.   
Ava Santanna, 17, who has volunteered for "three or four years", drove home the meaning of the mission: "How big of an impact just sitting here doing this for two hours can have on kids."
---
---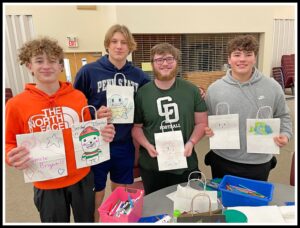 THE CD RAMS  
These guys are Ram tough.  Four players from the Central Dauphin High School football team gave up their February Saturday morning to help bring smiles to our kids. Their teamwork was evident as they cheerfully decorated Bags of Smiles, and as they quietly needled one another as each one told what our Have A Heart Day meant to him.  
As they spoke, the others laughingly murmured, "You have a big heart. What a good man. What a fine young man. Great young man there."  
"Actually, it's about helping people," said Kolton Sheeler, a freshman center for the Rams.   
"It's very nice that we have a chance to do this for kids in hospitals," Payton Harper, a junior center, said. "I can only imagine that it's very tough being in that situation."  
Collier Bock, a freshman tight end/defensive end, said he made cards for Caitlin's Smiles at home during the Covid quarantine. "I like to help kids. It's good to make them smile when they have nothing else to look forward to."  
For Andrew Kurtz, a sophomore defensive back/wide receiver, it hit closer to home.  
"It feels good to give back," he said. "Not a lot of people have what we have. My little brother was in and out of hospitals. He's perfectly fine now. But I know what this can mean to kids in hospitals."
---
---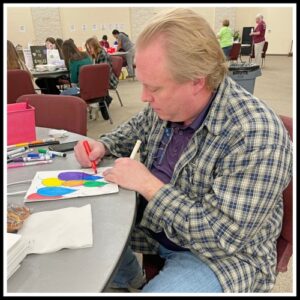 DRAWN TO BAGS OF SMILES   
Michael Martin sat at the table for a couple of hours on Have A Heart Day, intently drawing and coloring, making sure his designs on the Bags of Smiles were perfect.  
"I'm drawn to this table," said Michael, an architect by trade and the senior facilities project manager for Members 1st.  "I love to draw.  
With a laugh, he added: "I'm (at the table) by accident. I had heard of Caitlin's Smiles, but I really didn't know much about it. I came here today and said I'll do whatever they need me to do. This is great."  
It didn't take Michael long to also be drawn to the cause of bringing smiles to children in hospitals.  
"If I can show up, do this, and help kids, it's great," he said as he carefully colored in a few balloons on his bag. "It's fun for me, and hopefully it's fun for the kids. I can't imagine being in that situation with my kid."
---
---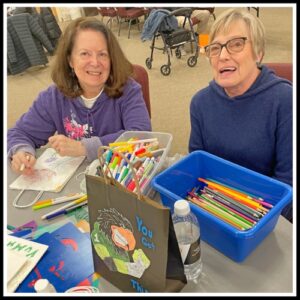 SERVING THE CHILDREN
The Kiwanis Club slogan is "Serving the children of the world." It couldn't have better ambassadors than Cheryl Dahlberg and Suzanne Mason.  
 They came to Have A Heart Day representing the nearby Kiwanis Club of Hershey-Hummelstown, and it was far from the first time that they had given their time for the kids of Caitlin's Smiles.  
"It's such a good cause," Cheryl said, taking a break from decorating a Bag of Smiles. "I love Cheryl (Hornung). She keeps our club involved with this."  
Suzanne, who has been a Caitlin's Smiles volunteer for "maybe 12 years", called it a "wonderful" mission.  
"My heart goes out for all Cheryl has started and done," Suzanne said. "It's amazing how much it has grown. It's for all the right reasons – it supports the children."
---
---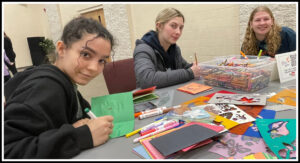 YOUNG LADIES OF PROJECT LAUNCH  
Molly Holness, Maggie Waterman, and Gaby Eckroth were designing cards of encouragement at Have A Heart Day as part of Mechanicsburg High School's Project Launch.  
"It's a high school club that makes it easier for people to volunteer," Molly said.  
Fact is, this wasn't the first time that 11th-grader Molly was spreading kindness to help children. She has done a mini-thon. And she has decorated cards and Bags of Smiles for Caitlin's Smiles.  
"I like to help out," she said. "I like to make people smile, especially kids."  
Gaby, also a junior, knows the happiness of receiving the fruits of this labor.  
"When I was maybe 5 or 6 years old, I was really sick and in the hospital, and I got a bag," she said. "It's really nice to give back. It's really cool to come full circle to be able to see how this happens and to do this for other kids."  
Maggie said she "saw this opportunity and jumped on it."  
"It's a great message," she said. "It's something I enjoy doing and gives me the ability to give back to the kids."
---
---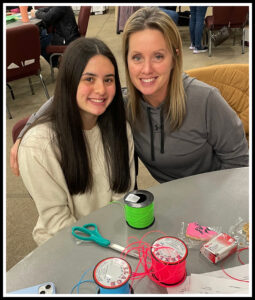 SEEING BOTH SIDES NOW  
Jen Williams and her daughter Addisyn made the 60-mile drive from Chambersburg to be part of Have A Heart Day.  And they stayed to contribute throughout both of the two-hour volunteer sessions.   
For Jen, it was a chance to help Addisyn, 14, with a volunteer opportunity for the softball team at Chambersburg High School. And, as a nurse at Chambersburg Hospital, it was a chance for Jen to see Bags of Smiles from a different perspective.  
"I've given them out," she said. "The bags are always so nice for the kids. This gives me a chance to see how they come together and be a part of it."  
For Addisyn, it was more than just a volunteer opportunity. "It's really good giving back to others," she said. "I enjoy helping out."
---
---
THAT'S DEDICATION!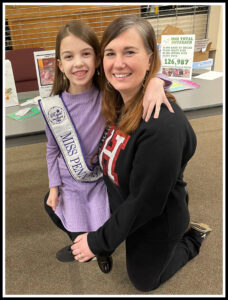 This year, 7-year-old Danica McMahon finally made it to Have A Heart Day. 
Last year, the young beauty queen was disappointed that a snowstorm kept her from making the trip to Harrisburg from her home in rural Transfer, 250 miles away in northwestern Pennsylvania. It didn't stop her from helping, though – she spent that Have A Heart Day decorating Bags of Smiles at her home.  
And Danica didn't stop there. During the past year, she sent boxes full of hundreds of crafts kits and cards of encouragement that she made for our kids.  
This month, we were overjoyed to welcome and meet Danica and her mother, Michelle, in person. It's part of Danica's volunteering as Royal International Miss Pennsylvania Sweetheart.  
"It's all about trying to share smiles," Michelle said. "Finding Caitlin's Smiles was great for Danica. Here, she can help other children."  
"I love art," shy, smiling Danica said. "I get to draw and color."  
And she does it so well.  
Caitlin's Smiles thanks Danica and Michelle for their dedication from so far away, and we wish Danica all the best as she competes in an international pageant in July.
---
---
LONGTIME LOYALTY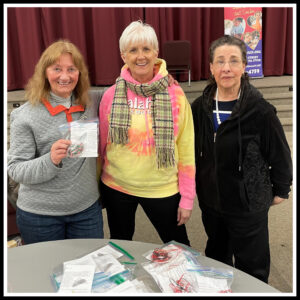 Olga Johnson has been a loyal volunteer with Caitlin's Smiles "for close to 10 years."  
Her reason is simple: "What's better than helping kids?"  
On Have A Heart Day, she was joined by a couple of friends who also have been giving back to our cause for a long time. 
Sue Kopcho says her participation began at a Christmas party a couple of years ago and she has been hooked ever since.  
Said Sue, "It's really cool that Cheryl has been able to draw from her daughter and help other kids who are in the same situation."  
Anna Thompson can't even put a number on the years that she has been helping Caitlin's Smiles "off and on."  
"Let's see," Anna said. "My granddaughter was a little girl when she came with me. Now she's 24 and in the military.  
"I'm a retired nurse," she added, "and I know what this would mean to the children."