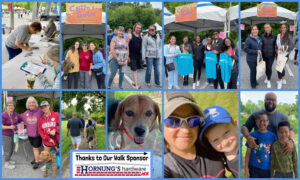 On a sunny Saturday in May, dozens of dedicated walkers showed up for Caitlin's Smiles at the Walk for A Healthy Community. Seventy-two walkers and two dogs raised $17,634 to provide arts & crafts activities to children in medical facilities. This year's walk took place on the campus of Harrisburg Area Community College.
Our walkers weren't limited to just Pennsylvania. Many participated from a park in Dayton, Ohio. Collette Shultz, sister of director Cheryl Hornung, recruits walkers each year to join her in supporting Caitlin's Smiles. This year, their 18-person team known as "Coco's Dream Team" raised $3,214.
Hornung's Ace Hardware helped to kick off the fundraising efforts by sponsoring our walk with a $2,000 donation.
The walkers raised funds by selling items, asking friends, family & others for donations, and making their own contributions. This year, a Sub & Pretzel Sandwich sale was organized to help participants raise funds. Each walker was credited with the profit from the sandwiches that they sold. Additionally, our organization was gifted candy bars, which were sold in support of the walk, too. (We still have candy to sell, stop by to get yours! $20 for a 30-piece full-size bar box.) Other walkers created their own unique fundraisers. Kim Mumper sold vegetable plants that she started from seed, and Diane Boyd made arrangements with Mr. Sticky's of Mechanicsburg to sell coupons good for their sweet treats. (We have coupons available at the office for $5.)
In appreciation of their efforts, all walkers received a Caitlin's Smiles tote bag donated by 4Imprint. Participants who raised at least $30 received a Highmark Walk t-Shirt. Those who raised $100 or more received the latest Caitlin's Smiles t-shirt. For every $50 raised, participants were given raffle tickets to enter a drawing for a variety of prizes up for grabs.
Donations for Caitlin's Smiles can be made via our Walk for A Healthy Community fundraising page through June 30th, 2023. Click here link to make a donation to support our walk efforts.
The Highmark Walk for a Healthy Community is an annual fundraising walk and is part of the Highmark Bright Blue Futures charitable giving and community involvement program that focuses on improving equitable access to care, quality of life, and economic resilience in the communities they serve.
The primary goal of the walk is to help participating organizations raise money for their individual missions. One hundred percent of the funds raised through this event go directly back to the participating organizations, as Highmark underwrites all the associated costs of the event. To learn more about this yearly fundraising event, click here.