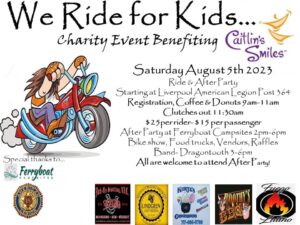 The 'We Ride for Kids' motorcycle ride & after party event is scheduled for Saturday, August 5th. Registration takes place at the Liverpool American Legion Post 364 from 9:00 – 11:00 am. The cost is $25 per rider and $15 per passenger. Coffee and donuts will be provided at registration. An afterparty will take place at Ferryboat Campsites starting at 2:00 pm and ending at 6:00 pm. Music will be provided by 'Dragontooth.' The event will have food trucks, vendors, raffles, and a bike show. Everyone is invited to attend the after-party. Visit the Facebook event page to stay up to date with this event.
GoodDayPA on ABC27 aired a segment about the event. Click here to view it.
This event is not organized by Caitlin's Smiles. It is an event organized by an outside group and we think they are pretty awesome for doing this.