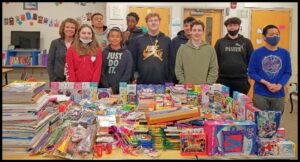 All of the students carried boxes as they arrived at Smiles Central. Every box was full of donations for our kids of Caitlin's Smiles. And these 11 eighth-graders from York Suburban Middle School weren't done just yet.
After traveling 30 miles and making their deliveries — craft kits, supplies, gift cards, puzzles and toys — they stayed for two hours, decorating Bags of Smiles, creating cards of encouragement and assembling craft kits.
When teacher Karen Page told the reading class at the start of this school year to "find a way to serve our community", these students took it to heart. They chose Caitlin's Smiles.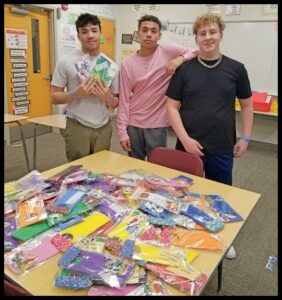 Every Friday since the start of the school year, the class spent at least 30 minutes assembling craft kits.
Then, around the beginning of April, eighth-grader Stephanie had another idea: She started a donation drive. "She challenged the entire school to donate 500 items," Karen said. "They donated more than 500 items."
Every Monday for the month, Stephanie got on the school public-address system. "She updated everyone on the drive and challenged the home rooms to give more," Karen said. "The home room with the most donations got donuts."
For all the smiles they have brought to our kids, we send a thank you to Karen Page, her eighth-graders and all of York Suburban Middle School for all of their efforts, their kindness and their generosity.